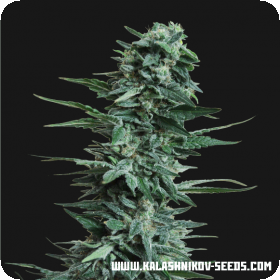 Kubanskiy Ubiyza Feminised Seeds
Kubanskiy Ubiyza, translating as killer from Kuban region, is a surprisingly gentle and happy strain. It, of course, originated in the Kuban region of Russia and is extremely popular with Russian growers. It reaches a good height and produces an excellent yield in any climate.
It doesn't take long to flower and can produce up to 600g/m2 if its treated well. The effect is extremely relaxing and calm but pretty powerful.
Ideal for lying back on the couch and contemplating the universe or the ceiling, depending on the limits of the imagination. Generally the feeling is super fluffy and positive, but new users should be wary of its power.
This strain is feminised, which means it will only grow into female plants. Feminised seeds are ideal for those who have no need for the male plants, aka growers.
Male plants take up a huge amount of space and money that could be better used on female plants. The males also need to be removed during the flowering process to ensure that they don't harm the female plants.
This is a complete waste of time and energy not to mention a total waste of seeds. Feminised crops are also usually higher in quality and uniformity than regular crops.
This strain needs just 50 - 60 days to flower and can be grown indoors or outdoors.
Remember that the cultivation of cannabis seeds is illegal in some countries, please check the laws of your country before attempting to cultivate cannabis seeds.
Genetics:
Kuban Sativa х Northern Lights х AK-47