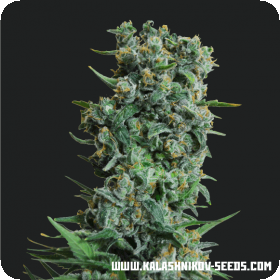 Kalashnikov Original Feminised Seeds
Kalashnikov Original is the product of years and years of fine-tuning and careful breeding.
A cross between an AK phenotype and Altai sativa strains this strain is powerful, robust and extremely resistant to mould, weather, humidity and fungi. This strain is fast flowering and gives impressive yields of large, dense buds.
It is perfect for newer growers who want something that takes minimal effort yet still delivers every time.
This strain is feminised, so it will only grow into female plants. Feminised seeds are popular with growers due to their ability to save huge amounts of time and money.
Usually half of a crop would be taken up by the useless male plants. They also need to be removed before they can harm the female plants.
With feminised plants none of this is an issue and the crop is likely to be higher in quality and uniformity. For this reason some breeders even prefer to use feminised seeds.
However, feminised breeding is very difficult and should not be attempted by novice breeders.
This strain takes 55 - 65 days to flower and can be grown indoors or outdoors.
Remember that the cultivation of cannabis seeds is illegal in some countries, please check the laws of your country before attempting to cultivate cannabis seeds.