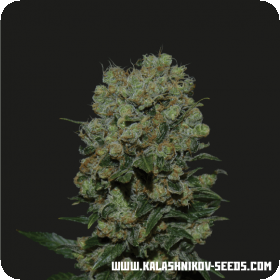 Kalashnikov Express Feminised Seeds
This strain is an update of a classic, the good old Kalashnikov Original. Kalashnikov Seeds crossbred this staple strain with a few genetics that would speed up the flowering and the bud development. It is a little more indica than the original and so the plants are a little shorter but very heavily branched.
The buds are enormous and extremely dense with an impressive covering of resin. This strain is ideal for the impatient growers out there, or those who are growing commercially.
Kalashnikov Express is a feminised strain, so it will only grow female plants. These strains were created to make life easier for growers, whilst improving the quality and uniformity of their crops. Feminised seeds mean no dealing with male plants, who would usually take up around half of the crop.
This means that they would have to be removed, not only a massive faff but a genuine waste of time and money that would be far better used on female plants. Some breeders even prefer to use them, however feminised breeding is tricky and should be left to experienced breeders.
This strain can be grown indoors or outdoors and needs 55 - 65 days to flower.
Remember that the cultivation of cannabis seeds is illegal in some countries, please check the laws of your country before attempting to cultivate cannabis seeds.
Genetics:
Kalashnikov Original x secret hybrid