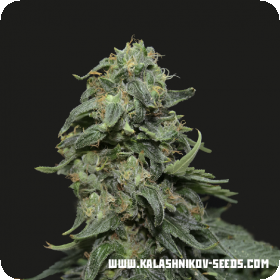 Kabul Express Feminised Seeds
This strain is an extra speedy version of the original Afghani strain. These seeds were originally brought to Russia from Afghanistan in the late 80s. This classic has a huge history behind it, and a massive following. Now growers can get all of that classic Afghani awesomeness, just a bit faster.
It has a high THC level of 22% which means that its a great strain for those who are suffering from pain or insomnia. It has a deliciously fruity flavour and scent that will leave the mouth watering and the taste buds tingling. Basically there's a reason that this strain has been so popular for decades.
Kabul Express is a feminised strain, which means that it will only grow into female plants. Feminised strains are ideal for those who don't fancy dealing with the male plants, who take up half of a regular crop and will cause issues during the flowering period.
Feminised plants can save growers huge amount of time, money and energy. They are also generally higher in quality and uniformity. This makes them quite popular amongst more experienced breeders also. However feminised breeding is super difficult and not be be undertaken lightly.
This strain will only take 48 - 55 days to flower and can be grown indoors or outdoors.
Remember that the cultivation of cannabis seeds is illegal in some countries, please check the laws of your country before attempting to cultivate cannabis seeds.