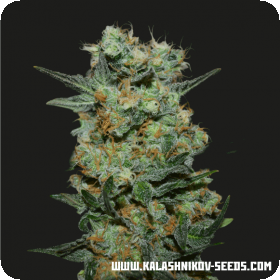 Baikal Express Feminised Seeds
Baikal Express by Kalashnikov Seeds is one of the best strains in the whole world, as flippant as that sounded its actually pretty much true.
It is a cross between the favourite strain at Kalashnikov Seeds known as Kubanskiy Ubiyza combined with sativas that were found in the Baikal Lake region of Russia.
The result is a bad ass, powerful, weather resistant super strain that grows fast and hits hard.
It has all the lovely, fluffy psychoactive effects of the sativa side combined with the heavy softness of the Kubanskiy Ubizya which makes it perfect for deep though and stimulating meditation.
It tastes of lemon with a hint of sweetness that comes in at the end. Basically it is the perfect strain.
This strain is feminised, so will only grow female plants. These seeds are great for growers who are just sick to death of dealing with the male plants. Males take up time, space and money that could be much better used on female plants.
Males also need to be removed during the flowering process which is just a massive pain.
So over all feminised seeds can make the entire growing experience more cost effective and just more fun. They are also usually higher in quality and uniformity than regular seeds.
This strain needs just 45 - 55 days to flower and can be grown indoors or outdoors.
Remember that the cultivation of cannabis seeds is illegal in some countries, please check the laws of your country before attempting to cultivate cannabis seeds.
Genetics:
Kubanskiy Ubiyza x Baikal Sativa х secret hybrid