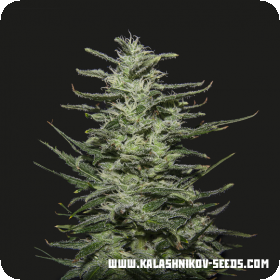 Amnesia Molotov Feminised Seeds
This strain is one of the strongest strains available from Kalashnikov Seeds. It is a combination of Amnesia, Chem Dawg and Kuban Assassin. It is sativa dominant and is extremely easy to grow, which makes it great for novice growers. It is extremely hard to over or under water and can stand up to most temperatures.
It has a strong flavour and scent of lemon with a hint of ginger and incense. The effect is typically sativa with a powerful cerebral hit that makes it ideal for social smoking. It is also a great day time strain for the medicinal users who still have be a bit productive. Its high level of THC filled resin also makes it perfect for manufacturing extracts.
Amnesia Molotov is a feminised strain, so it will only grow into female plants. This is perfect for growers who have no need for the male plants, which just take up space and can harm the females. This means that they need to be removed during the flowering process which is a bit of a pain in the buns.
It is also a huge waste of time, energy and money. Feminised seeds also tend to be higher in uniformity and quality than other seeds. For these reasons a lot of breeders also prefer to use them, however breeding with just female plants is tricky and should only be attempted by experienced breeders.
This strain needs 63 - 65 days to flower and can be grown indoors or outdoors.
Remember that the cultivation of cannabis seeds is illegal in some countries, please check the laws of your country before attempting to cultivate cannabis seeds.
Genetics:
Amnesia x Chem Dawg x Kuban Killer