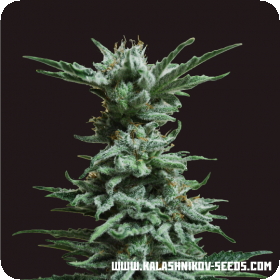 AK Skunk is another fab strain from Kalashnikov Seeds which is a combination of AK Skunk and AK - 47. This strain was first experimented with in the 2000s and by 2005 it was a fully stable, fully operative mega strain. It needed a little extra help from a Russian sativa strain which improved its crop size and its quality.
However, it does have a powerful smell to it and should be well ventilated. The THC level of this strain is extremely high with sativa like effects. This makes it a heady and cerebral strain with a nice stimulation that makes it great for more active smokers.
This strain is feminised, which means that it will only grow into female plants. Feminised seeds are primarily popular amongst growers rather than breeders. This is because the growers have no need for the male plants that would usually take up half of a regular crop. These males are only useful for their pollen, and can harm the females during the flowering process, so need to be removed.
A massive waste of time, energy and money that could be better spent on the females. Feminised seeds also tend to be higher in quality and uniformity than regular seeds.
This strain needs 50 - 60 days to flower and can be grown indoors or outdoors.
Remember that the cultivation of cannabis seeds is illegal in some countries, please check the laws of your country before attempting to cultivate cannabis seeds.
Genetics:
Far Eastern Sativa x Skunk х AK-47