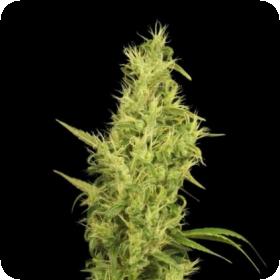 This delightful Sativa strain gets its name from its lovely, sunny, uplifting effect and its lemony sweet scent. This is the perfect strain for lying around in a sunny park or going for a nice walk.
Sunshine is an extremely vigorous grower during both the vegetative and flowering stages of growth. For those who are more experienced with cannabis this will be an enjoyable, motivational smoke that really gets you ready for the day. However since Sunshine produces a large amount of potent resin it may be a little hard core for those who are new to smoking.
This strain is feminised which means that it will only grow into female plants and will require a specific light cycle in order to properly work through the flowering stages.
Many growers much prefer to use feminised seeds since they remove the issues that come with the male plants. They can often be a huge waste of time and money. Feminised seeds are also high in quality and in uniformity.
Sunshine has a flowering time of 10 - 11 weeks but is well worth the wait.