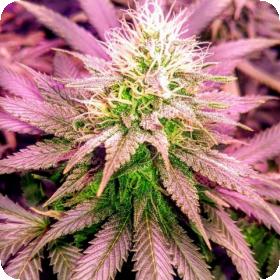 Our Banana Sativa regularly holds kilograms, with 4 foot long buds very common.
Moulding her with our Strawberry mum is ensured maximum use of the pistol count which swell into massive bracts and monster colas so dense and gleaming in a forest of delightful strawberry and banana crystals.
Smelling just like the original Surfers Sexwax where it gets its name it's peaches bananas and strawberries in an explosion on the palate.
She's so very tasty and intones such a supreme state where nothing seems to bother you, everything has a golden edge and is great as a solution finder.
She's still active so you can be busy or just to sit and enjoy the sublime state that washes over you these are some of the finest terps we've ever produced!
She truly is exemplary embodiment of strawberry banana bubblegum and a true delight for every garden...exceptional too for those who make water hash, rosins etc...enjoy.
Genetics:
Strawberry x Banana Sativa