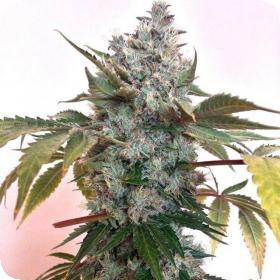 Guide Dawg Feminised Seeds
This strain is a combination of two awesome plants, Tre Stardawg and Bubba Kush #13. Tre Stardawg is a favourite breeding strain of one of Holy Smoke Seeds own breeders, this is because of its high resin production and its soft, relaxed high which is ideal for medicinal users.
The buds are really something to behold, they are extremely dense and completely covered in a stick coating of resin. In fact the resin production is so high that at first glance the plant just looks wet. It is a fast growing plant which provides relief for those who suffer from insomnia or stress and need some help relaxing in the night time.
Guide Dawg is a feminised strain, which means that it will only grow into female plants. Feminised seeds are primarily used by growers, who have no need for the male plants or their pollen. The males take up half of a regular crop and can harm the female plants further down the line. As a result they should be removed and this can be a huge waste of time, money and energy.
Some breeders also prefer to use feminised seeds for their increased quality and uniformity. However, feminised breeding is difficult and should only be attempted by experienced growers.
This strain needs just 8 - 9 weeks to flower and can be grown indoors or outdoors.
Remember that the cultivation of cannabis seeds is illegal in some countries, please check the laws of your country before attempting to cultivate cannabis seeds.