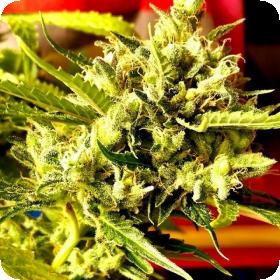 Guava Dub Star Feminised Seeds
This strain I a combination of Bubba Kush #13 (Topdawg) and Guava #13 (Topdawg). Guava Dub Star is best known for its excellent breeding and genetic background. It has all the best bits of each parent strain, the sweetness of the Guava parent with all of the potency and resin production of Bubba Kush.
It has a powerful scent and an even more powerful effect. It gives off an amazing scent of rich, dark coffee mixed with classic Hash. This is definitely a strain for all the collectors out there who want something totally unique.
Guava Dub Star is a feminised strain, which means that it will only grow into female plants. Feminised strain are very popular amongst growers who have no need for the male plants. The males take up valuable space and money that would be better used on the females, not to mention the amount of time wasted removing them from the crop.
Feminised seeds are also higher in quality and uniformity than regular seeds. This makes them popular amongst breeders as well, however feminised breeding can be extremely difficult and should only be attempted by experienced breeders.
This strain needs just 8 - 9 weeks to flower and can be grown indoors or outdoors.
Remember that the cultivation of cannabis seeds is illegal in some countries, please check the laws of your country before attempting to cultivate cannabis seeds.
Genetics:
Guava #13 x Bubba Kush #13