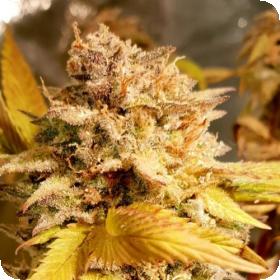 Fizzy Peach Feminised Seeds
Fizzy Peach is an absolute triumph of cannabis breeding that crosses Strawberry Stardawg with Mandarin Cookie x Chem D. Expect huge, fat buds, gorgeous scents and flavours along with THC.
Fizzy Peach is easy to grow; it does not like high nutrient levels and organic cultivation maximises its organoleptic properties.
It will take 9 weeks to flower indoors, give or take a few days, and the sturdy structure of this strain is well able to bear the heavy weight of its tennis ball buds.
During the flowering period, its scent is very powerful with diesel fuel combined with the fruitiness of ripe peaches and strawberries. The taste blends strawberry and peach with creamy notes of chemistry and fuel.
THC production can reach up to 30%, implying that this is not a mess strain and certainly not recommended for a novice or casual smoker/vaper.
The initial effect hits quickly and has a creative edge. The High is powerful and gives you a feeling of strength and invincibility as you ascend higher and higher.
Fizzy Peach is said to have a wide range of therapeutic uses,including for aches and pains, nausea, appetite stimulation, insomnia and general well-being.
Genetics:
Strawberry Stardawg x (Mandarin Cookie x Chem D)