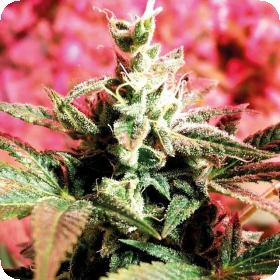 Banana Bread Feminised Seeds
Banana Bread is exactly what it sounds like, a fun sweet tasty treat! It is a combination of Early Purple Kush and Vietnamese Black. It is definitely well balanced with a hint of that classic sativa kick with the gentle softness of Kush. This makes it a great strain for those who have trouble relaxing or who are suffering from muscle pains.
Its also great for those who just want to relax on the couch and have a little snack after a long day. Over all this strain is a real gem that is not only delicious but extremely powerful.
This strain is feminised which means that it will only grow into female plants. Feminised seeds are extremely popular with growers, who have no real use for the male plants that take up half of a regular crop. Male plants can also harm the females later in the growing period and so should be removed.
This is a massive waste of time, money and energy that could be better used on the female plants. Feminised seeds are also popular amongst some breeders who prefer them for their increased quality and uniformity. However, feminised breeding can be quite tricky and should only be attempted by experienced growers.
It needs just 8 - 9 weeks to flower and will grow well indoors or outdoors.
Remember that the cultivation of cannabis seeds is illegal in some countries, please check the laws of your country before attempting to cultivate cannabis seeds.
Genetics:
Early Purple Kush x Vietnamese Black