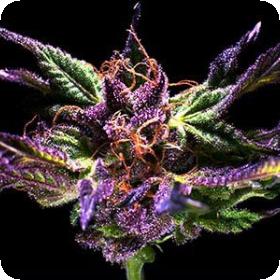 Grand Daddy Purple - 5 FEMINISED Seeds
This strain is one of the old favourites and was first introduced to the Bay Area in 2003. Not long afterwards it was picked up as a medicinal marijuana strain that became instantly popular in California.
This strain is famous for its gorgeous purple colouration with intense spots of neon green. It also forms incredible, basically hair free, crystals. The buds almost look as though they have been bedazzled, they are just that coated in resin.
Grand Daddy Purple can be purchased in the form of regular seeds. Regular seeds are extremely popular amongst old school growers and breeders. They will create a combination of male and female photoperiod plants.
Photoperiod simply means that the plants will flower in response to the cycle of the sun, or grow lights.
The combination of male and female plants makes regular seeds ideal for those who plan on breeding their own crops. It should be relatively easy to select the top performing plants to act as the parents to the new seedlings.
This way breeders can control the quality of their crops whilst removing any genetic weaknesses.
This strain can be grown indoors or outdoors and needs 8 - 14 weeks to flower.
Remember that the cultivation of cannabis seeds is illegal in some countries, please check the laws of your country before attempting to cultivate cannabis seeds.