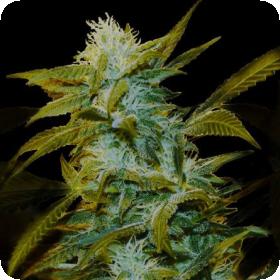 Super Silver Bilbo Feminised Seeds
Super Silver Bilbo is a combination of Super Silver Haze and Critical Bilbo, one of Genehtik Seeds' best loved creations. This strain is an award winner that took home 1st place at the BIO Cup 2005 Highlife Show in Barcelona. This strain has quickly become one of the most popular strains in Spain and is highly recommended for outdoor growth.
It has a classic Haze flavour with a powerful overtone of perfume and a hint of metal. It has the sort of effect that one might expect from a sativa, psychoactive and stimulating. Perfect for those who enjoy creative pursuits or look for something a little more social, certainly a day time strain.
This strain is feminised, meaning that it will only grow female plants. Feminised seeds also tend to be of a higher level of quality and uniformity than regular seeds. This makes them extremely popular amongst growers who have no use for the male plants. The males can actually cause problems in a crop and must be removed before they can damage the females.
Since around half of a regular crop is male, this is a colossal waste of time and money. Feminised seeds are even used by experienced breeders. Feminised breeding involves stressing a female until she releases feminised pollen, which acts in the same way as the male pollen. However this is a difficult process and it not recommended for novice breeders.
This strain will require 65 - 75 days to flower and can be grown indoors, outdoors or in a greenhouse.
Remember that the cultivation of cannabis seeds is illegal in some countries, please check the laws of your country before attempting to cultivate cannabis seeds.