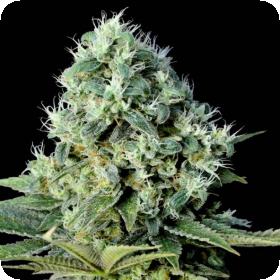 Santa Bilbo Feminised Seeds
This strain is the combination of a Brazilian Amazonian plant whilst the father was an Afghani x Brazilian hybrid, meaning that it has a high level of Brazilian genetics. It is sativa dominant but still has quite an early flowering time, which is thanks to the indica side of the gene pool.
The flavour is delicious and the scent is one of fresh incense which gives it an extremely light smoke. Its effect is clear, and comfortable which is ideal for those who want something to really spark their creativity. It is also great for just relaxing or for those who want something medicinal and non soporific. It is a great strain for Sea of Green growing and is a relatively dense plant with a good yield.
Santa Bilbo can be purchased in the form of feminised seeds. Usually feminised seeds are popular amongst growers due to the fact that they will only grow female plants. Females being the only productive plants in a crop, most growers don't need the males. The males can even cause harm to the female plants, which means that they have to be removed.
This is a huge waste of time, money and space which could be better spent on female plants. This means that growers will get a much better return on their investment. Especially since feminised plants have a higher level of quality and uniformity than regular plants. This means that they are also popular amongst a certain level of breeder, however they are not recommended for novices.
This strain grows well indoors, outdoors or in a greenhouse and needs 52 - 58 days to flower.
Remember that the cultivation of cannabis seeds is illegal in some countries, please check the laws of your country before attempting to cultivate cannabis seeds.