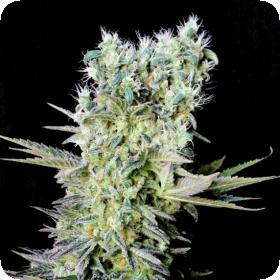 Northern Lights X Feminised Seeds
Northern Lights X is one of the original Dutch coffee shop strains and has been incredibly popular in the cannabis community since the late 90s. It is most famous for its powerful effect and amazing flavours. It was first introduced in Spain in the 2000s by Genehtik Seeds and has received an extremely enthusiastic response.
This is a more powerful version of the original, if you can image such a thing, with even larger yields. This strain is also extremely robust, but due to its dense structure it can fall victim to mildew in warmer climates. Therefore it will need to be well ventilated and watched carefully for any signs of rot.
This strain is feminised, meaning that it will only grow female plants. Feminised seeds are very popular with growers who have no use for the male plants. The males take up around half of a regular crop which means that they can waste a massive amount of space, time and money. Feminised seeds ensure that growers get the maximum return for their investment.
They are also higher in quality and uniformity than regular plants. For these reasons they are also popular with experienced breeders, who are capable of performing feminised breeding. This breeding method is not recommended for novices.
This strain will grow well indoors, outdoors or in a greenhouse and will need 60 - 65 days to flower.
Remember that the cultivation of cannabis seeds is illegal in some countries, please check the laws of your country before attempting to cultivate cannabis seeds.