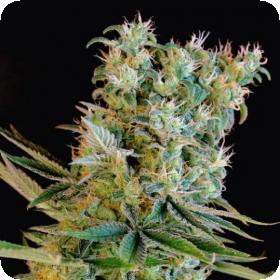 Amnesia Bilbo Feminised Seeds
This strain comes from the classic Amnesia Haze, one of the most famous Dutch strains on the market. It has won a number of awards and has been praised for its incredible flavour, yield and powerful effect. It has a combined flavour of perfume, incense, metal and a slight flavour or aniseed.
It has high THC levels of 20% which means it should really be left to more experienced smokers. It isn't called Amnesia Haze for nothing. This strain must be monitored which it is grown outdoors as it can grow to ridiculous heights and will need to be trained or tied to avoid breakage.
Amnesia Bilbo is a feminised strain, meaning that it will only grow into female plants. Feminised strains were created to make life easier for growers, who tend not to need the male plants. The males can cause issues during the flowering period and so have to be removed. Since they take up around half of the crop this is a huge waste of valuable time, money and energy.
Some breeders also prefer to use feminised seeds for all female breeding. This version of breeding is extremely tricky and should only be attempted by experienced breeders. However the result is usually much higher in uniformity and quality, so it is worth the extra effort.
This strain will grow well indoors, outdoors or in a greenhouse and needs 70 - 85 days to flower.
Remember that the cultivation of cannabis seeds is illegal in some countries, please check the laws of your country before attempting to cultivate cannabis seeds.
Genetics:
South East Asian x Jamaican x Afghan/Hawaiian