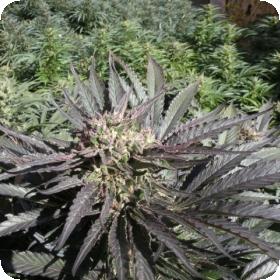 Frencheese Feminised Seeds
Frencheese is a cross between two wonderful strains, Super Skunk and Master Kush. Frencheese is best known for its phenomenal stress releasing, euphoric effect.
Due to this relaxing effect is works well against muscle pain, stress, anxiety and depression. However, it is certainly a nighttime medication due to its Indica dominant nature.
This particular variety was selected due to its extremely ability to resist heavy rain, mould and other such diseases which are usually brought on by an excess of moisture.
It has extremely fast flowering properties and receives its name from its very distinct flavour, the taste of French cheese.
The flavour is so intense that it should impress even the most discerning cannabis connoisseur. For this particular strain it is recommended that an air filtration system be used.
This strain is feminised which means it will only grow into female plants. This is especially popular amongst growers who have no plants to breed their own crops. For these growers the male plants are little more than a nuisance and a hindrance.
They would usually need to be removed at the start of the flowering process, which means that around half of a regular crop would go completely to waste.
Using feminised seeds is an excellent way to save time and money whilst also improving the quality and the uniformity of the crop.
Around 80% of strains which have been feminised have shown marked improvement in both areas. Feminised seeds are not just for growers however, they can also be used by experienced breeders.
The key is to cause the female plant to release a pollen known as feminised pollen. This works in much the same way as the male pollen and can be used to fertilise another female plant. The resulting seeds will also be feminised.
This strain can be grown indoors, outdoors or in a greenhouse. It has a flowering time of 8 weeks and, when it is grown outside, should be harvested in the end of September. It has a high yield and will grow to a height of around 110 cm.