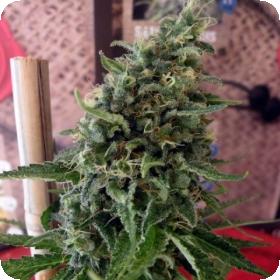 Douce Nuit Feminised Seeds
Douce Nuit is a combination of Northern Lights and Hindu Kush, two of the most famous and popular seeds around. The resulting strain is a rapid grower, however due to this swift growth and the fragile stems it is recommended that growers use a support structure when growing the plant.
This is also as a result of the weight of the buds which are thick and resinous. It is a very compact plant with a truly impressive yield and a very distinctive scent.
This strain is recommended as a medicinal strain and is often used by those who suffer from pain, sleeping difficulties, stress, anxiety and muscular issues.
It has an intense calming effect and so is not recommended for daytime use but rather for those who have issues with sleep and relaxation.
Douce Nuit is a feminised strain which means it will only grow into female plants. These strains are often favoured by growers who have no plans to breed their own crops.
For these growers the male plants are simply a waste of time, money and effort. They would usually be removed at the start of the flowering process in order to ensure that they do not damage the female plants.
Since a regular crop is made of roughly half male plants around half of the crop would be wasted, in turn this means wasting half of the money spent on the seeds. Feminised seeds are also of a generally higher quality and more impressive uniformity than regular seeds.
In fact 80% of strains which have been feminised have shown improvement in both areas.
Feminised seeds can still be used by experienced breeders. It is possible, if treated correctly, for the female plant to release a feminised pollen. This pollen is used in much the same way as the male pollen. It fertilises another female and the resulting seeds will also be feminised.
This strain can be grown indoors, outdoors or in a greenhouse. It has a flowering time of just 7 - 8 weeks, if grown outdoors it should be harvested in early September. It gives a high yield and grows to a height of round 120 cm.
Genetics:
Northern light x Hindu kush