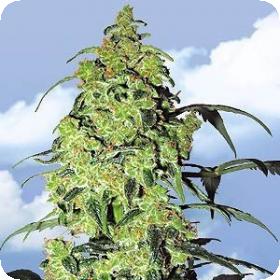 White Widow Feminised Seeds
White Widow is a name that all growers and breeders should know as it is one of the most famous and widely used strains around. It is essentially what keeps the Dutch coffee-shop industry alive and is a highly trusted strain.
White widow was one of the first of its kind, the white family, to be commercially sold. Now there are dozens of strains born from this amazing plant such as White Rhino, White Russian, and Blue Widow.
As far as modern growing and breeding is concerned there is no strain that tops White Widow. This plant has absolutely earned its fame considering its stunning growing speed, copious amounts of resin, and amazingly large yield.
The strain is certainly Indica dominant and so has a sweet yet extremely strong scent to it. Its effects are euphoric and energetic giving an amazingly creative effect. Without this strain cannabis breeding would not be the same and now it is available in feminised form.
Feminised seeds are extremely popular amongst cannabis growers everywhere. The primary purpose of these seeds is to remove the irritation of the male plants. They take up crop space and can actually damage the female plants around them.
This means that growers usually have to remove the male plants at the start of the flowering period. Monetarily speaking feminised seeds are certainly the way to go as a grower would have to buy twice as many regular seeds to receive the same number of females.
Generally for those who do not wish to breed their own seeds feminised seeds are the only way to go. For those who are breeders feminised seeds are still an option.
This is a much more difficult method of breeding and should only be attempted by experienced breeders. Essentially a female plant is fertilised by another female plant and this creates seeds which can only grow into female plants.
This is achieved by stressing the female plant in such a way that she produces feminised pollen, this is very similar to the male pollen. The resulting seeds are usually higher in quality and in uniformity.
White Widow has a short flowering time of just 50 - 65 days, an extra large yield, and thrives in sunny or Mediterranean environments.
Please remember that the growing of cannabis plants and the cultivation of seeds is illegal in some countries - please check the laws of your country and don't be growing any plants if it is against your country's laws.