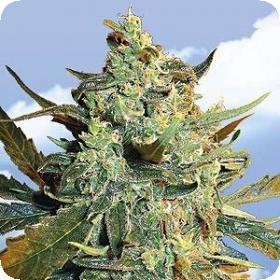 Power Skunk Feminised Seeds
Skunk is a classic strain which is loved throughout the cannabis community. It is not hard to understand why since Skunk is simple to grow, energetic, and has a very short flowering time.
Potency and yield are also extremely important aspects of Skunk and Power Skunk enhances those two aspects as well as lessening the usual smell that comes with growing Skunk.
Power Skunk is a hybrid of Skunk #1, Power Plant and Northern Lights, a pretty impressive family tree. Skunk #1 essentially speaks for itself since it has been one of the most popular strains around since its creation in 1978.
Power Plant is named after its fast growing time and its very high levels of THC. Finally, Northern Lights has often been called one of the most famous strains of all time.
It was first created in 1985 and since then it has become the genetic base of strains such as Sour Diesel, Super Silver Haze, and Shiva Skunk. Power Skunk is reliable, productive, and will even give great results to novice growers.
Feminised seeds are not for everyone, but they were originally designed in order to make the growing process much easier. They are primarily aimed at growers rather than breeders as their purpose is to eliminate the male plants.
Male plants are nothing but an annoyance for growers as they serve no purpose and can in fact hurt the female plants if not removed at the start of the flowering period.
As well as simply being an exercise in saving time they are perfect for those who wish to save a little money. Using feminised seeds means that every seed a grower buys will become a productive female.
Using regular seeds means that about half of the seeds are wasted as they grow into male plants. The method by which feminised seeds are created is a surprisingly simply yet extremely complicated one.
The method is easy to understand yet actually performing the necessary tasks takes a high level of breeding skill. Essentially the female plant is convinced to produce a pollen, this pollen is feminised.
Like the male pollen it can fertilise a female and create seeds, these seeds only contain female genes and will therefore be feminised.
Power Skunk has a flowering period of 50 - 60 days, thrives in a sunny or Mediterranean environment, and has an extra, extra large yield.
Please remember that the growing of cannabis plants and the cultivation of seeds is illegal in some countries - please check the laws of your country and don't be growing any plants if it is against your country's laws.