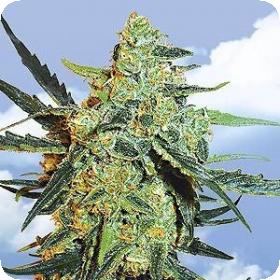 Blueberry Skunk Feminised Seeds
This strain, Blueberry Skunk, is the product of some really amazing breeding. Flying Dutchmen chose two of the best loved strains around and combined them to create something really special.
The parents of this strain are, unsurprisingly, Skunk #1 and Blueberry. Essentially this genetic combination results in a plant with all of the energy, dependability and the impressive yield of Skunk #1 with all of the amazing flavour and scent of the Blueberry strain.
Blueberry has always been popular for its unique taste and scent as well as its perfect balance of Indica and Sativa. Skunk #1 has been used to create many of the best hybrids currently on the market and has existed since 1978.
This stain is clearly Indica dominant but still has some clear Sativa qualities to it. The strain produces dense and robust flowers which have a beautiful crystalline resin coating. Flying Dutchmen have called it "Delicious, devastating and a delight to grow."
Feminised seeds have become exceedingly popular since they were first created by Dutch Passion. Their purpose is to vastly improve the growing experience by removing one of the greatest irritations to growers, the male plants.
Usually the male plants would need to be removed at the start of the flowering stage as they can harm the female plants. Feminised seeds will only grow into females and so this problem is completely removed.
If a grower is not interested in breeding they have no need for the males, so they simply waste space in a crop which could be better used. A grower would also have to purchase twice as many regular seeds to receive the same number of female plants.
Feminised seeds have been known to have a higher level of uniformity and of quality than regular seeds. For breeders who are interested in feminising their own seeds the method is difficult but certainly worth the effort.
Essentially the female plant is pressured in such a way that she releases feminised pollen. This pollen is very similar to that of the male plants and can be used in the same manner. This feminised pollen fertilises the female plant and creates feminised seeds.
Again this is not a simple process and it should only be attempted by expert breeders.
This stain is very versatile and can be grown indoors, outdoors, or in a greenhouse meaning that it suits most growers and breeders. It's flowering time is a stunningly short 55 - 65 days.
Please remember that the growing of cannabis plants and the cultivation of seeds is illegal in some countries - please check the laws of your country and don't be growing any plants if it is against your country's laws.