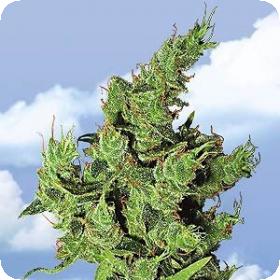 Amsterdam Mist Feminised Seeds
Amsterdam Mist is the stage up from Haze Mist which was an improvement on Original Haze. The primary improvements are the increased resin production as well as a much shorter flowering time.
This was achieved by breeding with an extremely popular strain called Northern Lights. Northern Lights is an extremely popular Indica strain which has been called one of the most famous strains of all time.
It is best known for its resin production and its unrivalled flowering time. It has been used in the production of dozens of the most famous hybrids including Sour Diesel, Super Silver Haze, and Shiva Skunk.
It is clear as to why it is usually selected as a breeding strain since it has some of the most impressive genetics around. This hybrid is truly something special with its phenomenally dense calyxes which have a beautiful crystal coating of resin.
Amsterdam Mist comes in the form of feminised seeds. Feminised seeds were originally created by the breeding company Dutch Passion. Since their birth these seeds have taken the cannabis community by storm as they vastly simplify the growing process.
Their purpose is to remove the threat of male plants, feminised seeds will only grow into female plants. This is achieved by convincing the female plant to produce what is called a feminised pollen.
This pollen is very similar to that of the male plant and can be used to fertilise the female. The resulting seeds will only contain female genetic material and therefore will only grow into female plants.
This method of breeding should only be attempted by advanced breeders. For growers everywhere this is a huge saviour of time, effort, and money.
The males no longer need to be removed at the start of the flowering process, this is usually necessary as they can actually damage the surrounding females.
Many growers have limited space at their disposal and using feminised seeds ensures that this space is filled with productive females.
Limited funds is also a pressing issue for many growers and one would have to buy twice as many regular seeds in order to receive the same number of females. Feminised seeds have also been found to be higher in both quality and uniformity.
This strain flowers in an amazingly short 70 - 85 days and it can be grown both indoors and outdoors.
Please remember that the growing of cannabis plants and the cultivation of seeds is illegal in some countries - please check the laws of your country and don't be growing any plants if it is against your country's laws.