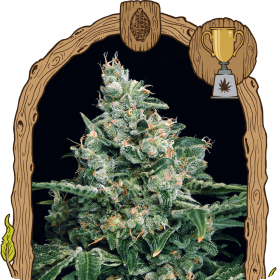 Sir Jack has been under construction for well over a decade, the first version being so successful that Exotic Seeds simply had to see how far they could take it.
It was crossed with itself to create a sturdy, sativa dominant strain which gives extremely impressive yields. The original plant came from the famous, and much sought after, Jack Herer strain.
This strain is well known for its resin production which is incredible. It also has a powerful, lemon scent with a hint on incense to it. The effect of the strain is happy and cerebral which will later turn into a mellow, physical, full body relaxation.
This strain is certainly not one for beginners, growers will need to keep an eye on humidity levels during growing to avoid mould.
This strain is not only auto-flowering, it is also feminised. The fact that it is auto-flowering means that it will have a shorter grow time whilst also having a shorter stature with a maintained yield.
This is accomplished by breeding the plants to flower automatically, rather than as a result of a specific light cycle. Feminised seeds will only grow into female plants, making life much easier for growers.
Feminised plants also tend to be of a higher level of uniformity and quality than regular strains. For these reasons and more auto-flowering feminised plants can save a lot of time, money, space and energy.
This strain will flower well indoors and outdoors, it has a flowering time of 63 days.
Remember that the cultivation of cannabis seeds is illegal in some countries, please check the laws of your country before attempting to cultivate cannabis seeds.