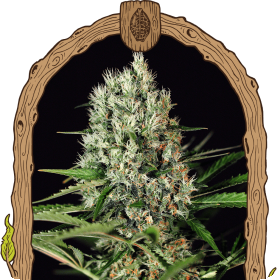 Quick Mass Feminised Seeds
This strain is an extremely fast-flowering hybrid of White Widow x Critical Mass and Critical Mass. This strain takes on all of the speed of Critical Mass as well at its amazing yield. On the other side it inherited White Widows famous resin production.
It wont grow too large and it is perfect for SoG growing. Its flavour is extremely intense and combines fresh fruit with an extremely relaxing effect. Perfect for those who are looking for a medicinal strain or just something to help them relax.
Quick Mass is a feminised strain, meaning that it will only grow into female plants. All female crops are especially good for growers who have no need for the male plants. The males can cause issues with the female plants later in the growing process. As a result they have to be removed which is a huge waste of time, money and effort.
Some breeders also prefer to use feminised seeds for their increased quality and uniformity. However feminised breeding can be extremely tricky and should be only be attempted by experienced breeders.
This strain can be grown indoors, outdoors or in a greenhouse and needs 42 - 49 days to flower.
Remember that the cultivation of cannabis seeds is illegal in some countries, please check the laws of your country before attempting to cultivate cannabis seeds.