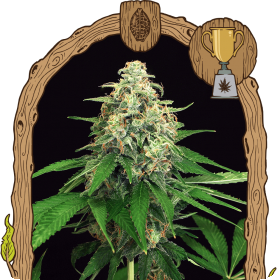 Mango Cream Feminised Seeds
Mango Cream by Exotic Seeds is a combination of Somango and an F5 cross of Blueberry and New York City Diesel. It is an indica dominant strain which can be seen in its Christmas tree appearance. It gives impressive yields of between 480 - 550 g/m2 and the buds are completely coated in resin.
The effect of the strain is powerfully relaxing and is ideal for those who have had a bit of a tough day, but don't want to be confined to their couch. The scent is a combination of lemon, sweet fruits and a hint of Skunk.
This strain is feminised which means that it will only grow into female plants. Feminised seeds were created to help out growers, who often waste huge amount of money and time on the male plants. Males take up around half of a regular crop, and have to be removed during the flowering period. Feminised seeds are also higher in quality and uniformity than regular seeds.
Some more advanced breeders also prefer to use feminised seeds, however feminised breeding is quite difficult and shouldn't be attempted by novices.
This strain will need 56 days to grow and should be grown indoors, outdoors or in a greenhouse.
Remember that the cultivation of cannabis seeds is illegal in some countries, please check the laws of your country before attempting to cultivate cannabis seeds.
Genetics:
Somango x (Blueberry x New York City Diesel) F5