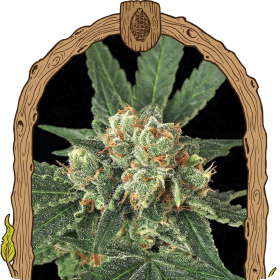 Blue Monkey Feminised Seeds
This strain is a cross between Gorilla Glue #4 and a hybrid of Black Domina and Blueberry. This is a dense and sturdy strain that produces large yields of impressive buds. It also produces a huge amount of resin which makes it perfect for all methods of extraction.
It has managed to hang on to the signature Gorilla Glue scent with an added fruitiness. It has a powerful and physical effect which gives a nice, full body relaxation. This makes it a great nighttime medicinal strain, or is perfect for those who suffer from muscle pain and insomnia.
Blue Monkey is a feminised strain, which is ideal for growers. Regular strains will have a 50/50 chance of becoming male or female. Feminised seeds, however, will only grow into female plants.
This has a number of advantages, such as increased uniformity and quality. It will also save the grower a huge amount of time, money and energy that would have otherwise been wasted on removing the male plants.
A lot of experienced breeders also prefer to use feminised strains. Female plants can be stressed in such a way that they release feminised pollen. This pollen can then be used on other female plants to create feminised seeds.
This strain needs 9 weeks to flower and can be grown indoors or outdoors.
Remember that the cultivation of cannabis seeds is illegal in some countries, please check the laws of your country before attempting to cultivate cannabis seeds.
Genetics:
Gorilla Glue #4 x (Black Domina x Blueberry)