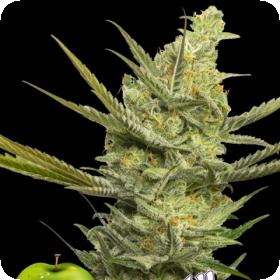 Gipsy Haze Feminised Seeds
Gipsy Haze is a phenomenal combination of three awesome plants; Jack Herer, Space Bomb and Black Domina. It is a sativa dominant strain that produces a serious amount of THC, up to 22%. It gives a pretty great yield and the buds are not only large but completely dripping with resin. This strain may have low CBD but it does have some medicinal applications.
It is especially effective as a way to ease chronic pain and lift even the darkest of moods. It has an amazing scent of lemon, incense and mango with a sweet, yet citrusy, flavour. Over all this strain is really one to watch out for, and definitely one to plant in the garden as soon as possible.
This strain is feminised which means all of the seeds will grow into female plants. These plants will still require a light cycle in order to flower. Feminised seeds are not only single gender, but are also higher in quality and uniformity than regular seeds. As a result they are often used by breeders and growers alike. For breeders they do make the process a little trickier, but it could be argued that the results are worth the extra effort.
They make the process much easier for growers, who no longer have to be inundated with useless male plants during the growing process. Feminised seeds can save them a lot of time, money and effort that would otherwise be wasted on the male plants.
This strain only needs 56 - 63 days to flower and grows well both indoors and outdoors.
Keep in mind that the cultivation of cannabis is illegal in several countries. Please check the laws of your country before attempting to grow cannabis seeds.
Genetics:
Jack Herer x Black Domina x Space Bomb