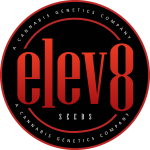 Elev8 Seeds have obtained some of the best genetics in nature afterspending years of building relationships with some very talented breeders and growers.
Their decision to carry a strain at Elev8 Seeds depends on whether we think the strain is a definite "holder."
Elev8 Seeds had the opportunity to compare countless strains side by side by collaborating with large medical marijuana growers.
The goal of Elev8 Seeds is simple: to provide those who know the value of world-class genetics with the best genetics in seed form.