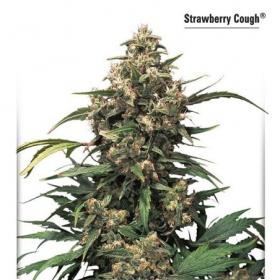 Strawberry Cough Feminised Seeds
Strawberry Cough is a dominant sativa. The plants these seeds produce are identified by heavy lateral branches that become weighed down with heavy, compact buds resembling pinecones.
The buds themselves have a distinct aesthetic quality, taking on a deep red to deep purple hue when fully mature. The yield of these plants is not as high as some feminised varieties but the end product is a clear lesson in quality over quantity.
Growers cultivating cannabis strictly for personal use will find the return on investment in these seeds to be more than adequate in both the amount and quality of the end product.
The aroma of Strawberry Cough is very particularly fruity with an endnote of fresh berries. The taste mirrors the smell quite nicely, bringing that berry-flavoured goodness into the foreground.
Users describe the flavour as thick and creamy with a slight "tickly" effect on the lungs, hence the name.
The effect it produces is very energetic and uplifting, like any good quality sativa. No couch-locking is going on here - just a great, effervescent high that lets the user get on with his or her day productively and with an intensified positive attitude.
The effect is relatively potent and immediate and lasts a long time. This is a great strain for social interaction as well as combatting the effects of depression and anxiety for those who grow for medicinal purposes.
Indoor growers using hydroponic methods like Deep Water Culture and other specialized methods like SOG and ScrOG will find that the plants produce a bit better than in soil alone. Consistent nutrient introduction and good lighting will also promote maximum yield.
When grown outdoors, plants will produce a bit less but the quality will be identical when left to fully grow and mature. A good pH balanced soil and the right combination of nutrients will go a long way with Strawberry Cough.
Please remember that the growing of cannabis plants and the cultivation of seeds is illegal in some countries - please check the laws of your country and don't be growing any plants if it is against your country's laws.