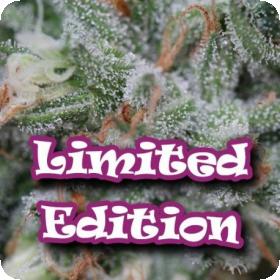 Sweet Diesel Feminised Seeds
Sweet Diesel is a mix of Sweet and Original Diesel Sweet is a mix of Sweet Tooth back crossed with Peyote Purple. These genetics are out of this world and the flavour is super sweet and fruity with a touch of Cola and lemon.
When Sweet was introduced to Daywrecker it turned into an extremely unique plant with an amazing array of flavours and scents that will leave mouths watering. This strain is temporarily available and limited edition. 
This strain is feminised and will only grow into female plants. Feminised seeds were created to make life easier for the many growers who don't have any use for the male plants.
For these growers the males are just a nuisance, and they can harm the females during the flowering period. Since half of a regular crop is male, throwing them away can be a real waste of time and money.
Feminised plants are also usually higher in quality and uniformity than regular plants. This means some breeders also prefer to use them, even though feminised breeding is very difficult. 
This strain is super versatile and can be grown indoors or outdoors. 
Remember that the cultivation of cannabis seeds is illegal in some countries, please check the laws of your country before attempting to cultivate cannabis seeds.
Genetics:
Sweet (cut) x Original Diesel ( Daywrecker cut) AKA Headband