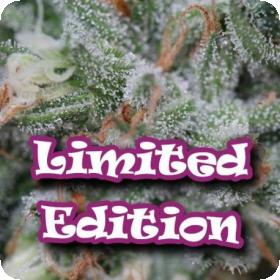 Diesel Cookie Feminised Seeds
This strain is a cross between Girl Scout Cookie (Thin Mint Cut) and Original Diesel (Daywrecket cut) also known as Headband. This strain is extremely popular due to its amazing genetics.
One of the main reasons for this plants popularity is its amazing yield and hard hitting effect. This is definitely not a strain for beginners or lightweights, but is ideal for those who have built up a tolerance. This strain is limited edition and won't be available forever. 
Diesel Cookie is a feminised strain that will only grow into female plants. Feminised seeds were designed to make life easier for growers. Especially those who don't need the male plants to breed their own crops.
For these growers the male plants are a nuisance and can damage the females during the flowering period. This means they have to be removed, which is a huge waste of time and money. Feminised plants also tend to be higher in quality and uniformity.
Some breeders also prefer to use them, even though feminised breeding is very difficult. 
This strain is very versatile and can be grown indoors or outdoors. 
Remember that the cultivation of cannabis seeds is illegal in some countries, please check the laws of your country before attempting to cultivate cannabis seeds.
Genetics:
Girl Scout Cookie (Thin mint cut) x Original Diesel ( Daywrecker cut) AKA Headband