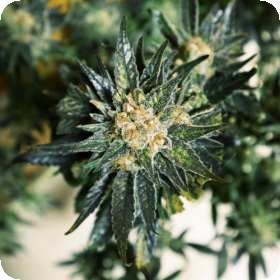 DC Kush is an indica hybrid strain of a particularly potent Afghani strain and California OG Kush strain. Although yields are not the largest, this colourful strain is of pure quality, highly potent with very high THC levels.
DC Kush can be grown indoors and outdoors and has a typical indica plant structure with a compact profile, dark green leaves and a good calyx-to-leaf ratio for easier post-harvest trimming.
Indoors flowering takes 9 weeks with yields between 300-400 g/m2. It is a very fragrant strain, therefore the use of good carbon philtres is strongly recommended. Outdoors plants can grow anywhere between 100 - 200 cm.
High yields of 300-400 gr/plant with northern hemisphere harvest due either late September or early October. With cooler night time temperatures these plants display a nice purple colouration all over.
The buds are very dense and the shape of a golf ball.
Scent and taste are diesel with earthy notes of hash. High THC levels hit hard and fast, with even experienced smokers commenting on its potent, reassuring effect. It's a very relaxing experience.
Therapeuticly, this strain is recommended for the treatment of pain, insomnia and appetite stimulation.