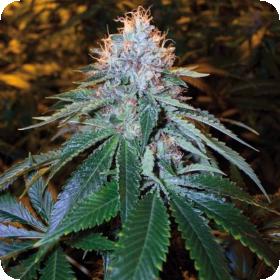 The OG #18 Feminised Seeds
Reserva Privada has a particular affection for this strain. They have used it in a number of hybridisation projects and it is clear to see why. On its own, this mostly indica strain really delivers the goods.
It provides a very typical indica stone that fills the head and can easily leave the user couched for hours. It is also a very therapeutic strain with numerous pain management benefits.
Originally developed and bred by DNA Genetics, The OG #18 is a hardy strain that grows well both indoors and out. Indoors, its size lends it well to a number of growing methods, both hydroponic and soil-based.
The substrate has little to do with the quality or yield but the nutrients and light are important for both. The plants don't require an excess of maintenance, making them a great option for first-time or novice cannabis growers. Indoor flower time is approximately 9 weeks on average.
The medical marijuana community has long regarded OG #18 as one of the most effective strains out there. The benefits are most notable in physical ailments such as joint and muscle pain and it works wonders as a sleep aid.
Some even claim that it is notably effective in reducing stress and anxiety.
This strain has a distinctly sour quality to both the flavour and the aroma that was not present in the original OG. This version is also 100% feminised with no known reports of any males cropping up in the mix.
It has the yields of strains like Chem Dawg and also has the same kind of fuel-laced flavour and smell. The buds become thick with frosty trichome crystals when fully mature, and they stick around after curing to give the buds that extra dimension of bag appeal.