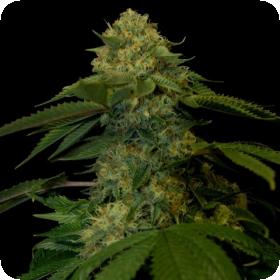 Holy Grail Kush Feminised Seeds
Surely the first thought of any grower or breeder perusing this strain is 'why Holy Grail?'. The answer is simple, this literally is the holy grail of strains. For those who have been searching their entire growing lives for that one perfect plant, this could be it.
This sweet plant is already a multi award winner and has won 1st place Hybrid at the High Times Cannabis Cup in 2011 and 2nd for Indoor Hydro at Spannabis in 2012. It is hardly surprising considering its pedigree parents. It is a combination of Kosher Kush, which has won the Cannabis Cup twice, and OG#18, who has seen its fair share of awards as well.
The buds grown on this plant are large, dense and dripping with resin with a strong hint of that delicious Kush scent. In fact the smell of the plant is so powerful that it is recommended that those growing inside use a carbon filter. This strain will really reward experienced growers but will also give a decent crop to novices.
Holy Grail is feminised which means it can only grow female plants. Many growers prefer not to have to deal with the male plants and are fans of the fact that feminised seeds have higher levels of uniformity and quality.
Holy Grail has a growing time of just 9 weeks, can be grown indoors and outdoors and can give yields of 500 - 650 g/m2.