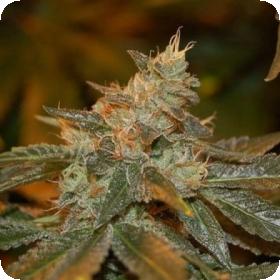 Cataract Kush Feminised Seeds
This wonderful strain is the combination of two top class strains. LA Confidential and OG Kush have come together to create a fast flowering plant with extremely high resin production.
When it's cured it takes on an almost greyish black colouring. The flavour certainly comes from the LA Confidential side of the family but the OG Kush does come through underneath. The appearance of the buds is that of the OG side but with the thick and robust nature of the LA.
The combination of these two strains is nothing short of masterful and the effect it has is a potent one. The effect is great for those suffering from pain, loss of appetite and problems with sleeping.
This strain is not recommended for beginners but for the more seasoned grower it will provide high yields of top quality nugs.
Cataract Kush comes in its feminised form which means it will grow into a crop of exclusively female plants. These are very popular amongst growers who don't plan on breeding their own crops.
For these growers the males can be a huge waste of time, money and effort. Feminised seeds will also usually yield a higher quality plant and better over all crop uniformity.
This strain can be grown indoors, outdoors or in a greenhouse, it has a flowering time of just 8 - 9 weeks.
Genetics:
LA Confidential x OG Kush