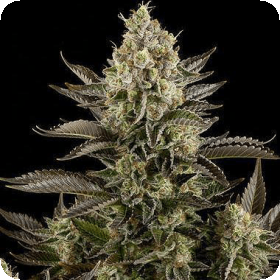 White Widow Feminised Seeds
White Widow is one of the most famous and best loved strains on the market. It is an Indica dominant strain which was first introduced to the cannabis community in 1997.
This particular version comes from an elite clone from that era. For the majority of the 90s this strain was a dominant feature of all the best Dutch Coffee Shops.
This strain is best known for its extremely relaxing high and it's easy to grow nature. It grows large, beautiful buds which are completely covered in white resin, hence the name of the strain.
The effect is extremely physical and is ideal for those who are suffering from stress, anxiety, muscle tension, anorexia and insomnia.
This strain is feminised which means that it will only grow into female plants. Feminised seeds are usually popular amongst growers rather than breeders. This is due to the fact that the growers have no real need for the male plants.
Males are only useful for their pollen, they don't actually produce any usable buds themselves.
They can even cause issues in the crop during the later stages of growth. As a result they need to be removed during growth, which is a huge waste of time, energy and money. It has also been discovered that feminising a strain will largely increase its quality and its uniformity.
For this reason a number of experienced breeders also elect to go through the much more complex method of feminised breeding.
This strain can be grown indoors or outdoors and has a flowering time of 55 days.
Keep in mind that the cultivation of cannabis is illegal in several countries. Please check the laws of your country before attempting to grow cannabis seeds.