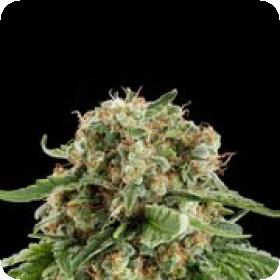 White Siberian Feminised Seeds
The White Siberian strain is a cross-breed of two very carefully selected strains, White Widow and AK 47. The White Widow strain has always been extremely popular for its stability, excellent yield, resistance to cold weather, as well as excellent results when cultivated indoors.
The AK 47 is well known for its strength, aromatic, and therapeutic properties, on top of its heavy yield. White Widow contains a high level of CBD which means that it has excellent medicinal aspect and can help in the treatment and pain relief of many different illnesses.
However, AK 47 contains a high level of THC and so the strain has medical properties and a heavy cerebral and physical effect.
Dinafem has also, as with many of their other strains, genetically altered White Siberian to be feminised. Feminised seeds have been created so that breeders can avoid growing the often useless male plants.
Unless a breeder wishes to cultivate their own future crops the male is of little to no use. Even if breeding future plants is the intention this can be achieved, with a larger amount of effort, by using only female plants.
If the female is stressed correctly she will produce the necessary pollen. Male plants can often take up growing space that some breeders may prefer to give to the productive females.
It should be harvested in mid - late October and has a growing time of 50 - 65 days. The strain has excellent genetics which affect its ability to grow in different climates.
As the White Widow has the aforementioned ability to stay strong in cold weather and be resistant to damage the strain can be grown indoors, outdoors, or in a greenhouse. Over all, it is an extremely user-friendly strain.
Please remember that the growing of cannabis plants and the cultivation of seeds is illegal in some countries - please check the laws of your country and don't be growing any plants if it is against your country's laws.