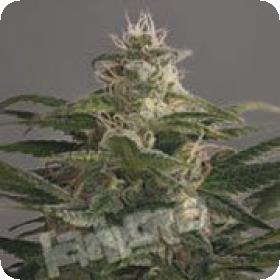 OG Kush is an iconic strain that has made the rounds for years and is a favourite among cannabis growers and enthusiasts the world over. It's not surprising why, either.
With just a 9-week average flowering period, these seeds germinate nicely, grow quickly and produce impressively. Just watching these plants grow will make any grower start yearning for the good times to come.
These plants are top-notch in both quality and in aesthetics. The leaves are a beautiful light green, and they create the perfect backdrop for the numerous flower sites loaded with big, thick and exceptionally resinous buds.
This is one strain that will literally knock you off your feet so get comfy before lighting up. That said; it's more of an embrace than a wallop - gentle but deliberate and sending warm, tingly waves of relaxation all over.
It provides the quintessential full-body high one would expect from a dominant indica. The indica side shows up in its subtle yet powerful head-filling effect leaving the user wanting to just sit back and bask in a sea of euphoric bliss. THC content is high with a moderate CBD concentration.
OG Kush works particularly well in indoor growing situations but it grows well outdoors too. Plan to harvest by mid-October in the Northern Hemisphere if you plan to grow outdoors and give the plants enough room to take advantage of as much sunlight as possible.
Indoors, soil, hydroponics or specialized methods like SOG or ScROG will work well coupled with good nutrient introduction and a predictable 12/12 lighting cycle.
These considerations will result in excellent yields and a product that stores well for months, especially in airtight containers. Growers will also appreciate the ease of cultivation these seeds afford them being feminised and capable of superior flower site development.
Please remember that the growing of cannabis plants and the cultivation of seeds is illegal in some countries - please check the laws of your country and don't be growing any plants if it is against your country's laws.