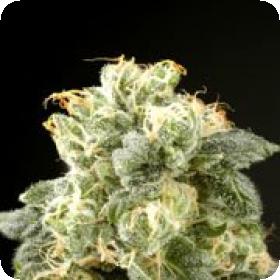 Industrial Plant Feminised Seeds
Dinafem Industrial Plant Feminised is a strain specifically designed with indoor growers in mind. Its genetics have been carefully selected for their responsiveness to artificial light.
It is a cross between a high-producing East Indian Afghan and a stable Thai sativa and includes genetics from other classic strains including Northern Lights, Haze and Skunk.
It also lends its genetics to the iconic Jack Herer which has subsequently been used in virtually countless hybridization projects. It hails from Seattle, Washington and has gone through literal years of development to stabilize it and increase its production capacity.
The result is encapsulated in these seeds and is certain to become a fast favourite for dedicated indoor cannabis growers.
Industrial Plant produces an abundance of product and has a short flowering time. The plants grow relatively short, making them even more attractive to growers working in limited space.
They present with dark green, heavy leaves with thick stems that do an excellent job of supporting the ample numbers of buds the plants produce. Plants respond well to virtually all indoor grow methods and will produce the best when kept on a steady 12/12 light cycle.
The effect is potent and provides both a strong head-filling and all-over-body high. The aroma is reminiscent of evergreen and mint with hints of pepper and citrus. The flavour takes the best form many of its genetics and is most commonly compared to Haze.
Growers will appreciate the ease of cultivation with Industrial Plant.
These are feminised seeds which make them inherently easier to work with and considerably more productive than any "regular" strain and at 650 g per square metre, they will also appreciate the huge return on investment.
When properly cured and stored, the finished product will keep for months with virtually no loss of quality or potency.
Please remember that the growing of cannabis plants and the cultivation of seeds is illegal in some countries - please check the laws of your country and don't be growing any plants if it is against your country's laws.