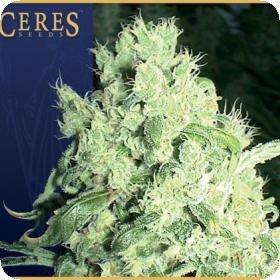 White Indica Feminised Seeds
White Indica has already become extremely popular due to its heavy yield and how quickly it flowers. It also grows huge buds and is extremely easy to cut and to clean due to its large leaves.
This makes it ideal for old school, experienced growers and new growers alike. Since the plant is short and does not carry a huge amount of leaves it is extremely easy to handle. In the last couple of weeks of growth White Indica will explode with buds.
These buds will be dripping with crystalline resin making them exceedingly potent. This plant is certainly and sound and prudent investment.
White Indica also comes in its feminised form meaning that it will grow into exclusively female plants. These strains are extremely popular amongst growers as they remove the issues that come with the male plants.
Since male plants can damage or destroy a crop they have to be removed before the flowering process which can be a huge waste of time and money. Feminised seeds will also produce a far more uniform crop of high quality flowers.
This strain can be grown indoors, outdoors or in a greenhouse. Indoors it has a flowering time of 45 - 55 days and outdoors it should be harvested in mid October.