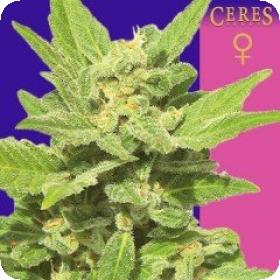 Lemonesia Feminised Seeds
This wonderful crossbreed was born of two fantastic and high quality strains. It is a combination of the highly praised Sour Diesel and the award-winning strain Amnesia Haze. The resulting strain shows a lot of variety, its Sativa dominant and is a fast flowering, highly invigorating plant. Lemonesia is beautiful to look at while it matures and grows long, chunky colas.
The strain gets its name from the powerful lemon scent and it is well known for its long-lasting, mentally stimulating effect. The distinct and pungent scent comes from the strains unique terpene composition. This is a beautifully structured cross which combines all the energy of Sour Diesel and the trippy effects of the Amnesia Haze. Lemonesia deserves a spot in any and all gardens.
This strain comes in its feminised form which means it will only grow into female plants. Feminised strains are very popular amongst those who have no plans to grow their own crops. This is because they remove the burden of the male plants and all of the the growers time, effort and money will go into the productive females. The harvest will also be of a better quality and a more impressive uniformity than regular plants.
Lemonesia can be grown indoors or outdoors, indoors it has a flowering time of 65 - 70 days and outdoors it should be harvested in October.
Genetics:
Amnesia Haze x Sour Diesel