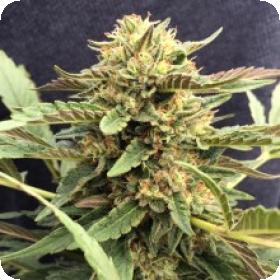 Therapy CBD Feminised Seeds
The CBD Crew's Treatment With the emergence of this long-awaited high CBD and low THC medicinal marijuana strain in stable seed form, CBD announces a world-first. 
While there are seed varieties derived from hemp strains, CBD Therapy is derived only from high THC cannabis strains, which took 4 years to stabilise with the support of scientific laboratory analysis.
With additional testing and positive feedback, CBD Crew is trying to better stabilise the THC concentration, as not all pheno-types yielded low THC levels. 
Some are closer to 5:1 (CBD:THC) and even a handful at 2:1, thus CBD Crew conducted a thorough new round of testing on the most recent seed crop to determine the frequency of these various pheno-types. 
They discovered that 50-75 percent of CBD Therapy seeds will have very low THC levels with high CBD, whereas 25-50 percent may have greater THC levels. 
No seed will produce simply high THC; it will always produce both CBD and THC. 
There were no seeds that produced more THC than CBD, although there were variances ranging from 20:1 to 2:1. Each box will contain one or more low THC, high CBD phenos.
Yields for this largely indoor indica/sativa hybrid are high, with 500 gr/m2 harvests in 8 - 9 weeks of blooming. 
Its buds have an earthy, fruity flavour with a relaxing, soothing, and tranquil impact, making it perfect for patients who do not want to "get high."
While it is not a cure for cancer in and of itself, it does provide a seed strain that can be managed in medical grow rooms as well as in medical extraction processing to develop an appropriate treatment for a variety of ailments and conditions. 
CBD Therapy is a scientific breeding masterpiece that allows patients to reclaim control of their lives, augment a patient's requirement for cannabinoids, and generally improve the welfare and quality of life for individuals who use it.
Please note: Due to its pure cannabis genetics, this strain is NOT hemp and cannot be produced as hemp due to the risk of greater THC than 0.5.
Genetics:
Various drug variety cultivars