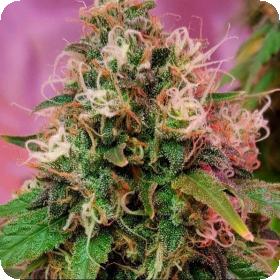 CBD OG Kush Feminised Seeds
This strain, CBD OG Kush, by CBD Crew is an extremely popular strain the world over. It has powerful effect due to its high levels of THC but it is also enriched with CBD making it a great medicinal strain.
Even with the high level of THC this strain has an extremely high level of clarity and freshness, especially for a Kush strain. It gives impressive yields but stays relatively small and compact which makes it ideal for growers who are lacking in space and prefer to grow indoors.
The average levels of THC are around 6 - 8% and the CBD levels average at 8 - 10%. The CBD ratio can reach from anything between 1:2 to 1:5. The plants have a delightful aroma which is floral and fruity all at the same time with just a pinch of earthiness.
This strain is feminised which means it will only grow into female plants. A lot of growers prefer to use these seeds since they can save time and money and are also higher in quality and uniformity than regular seeds.
Male plants can cause a lot of issues during the growing process, especially the flowering stage. They can damage the harvest and so need to be removed which means around half of a regular crop is wasted.
CBD OG Kush has a flowering time of 9 - 12 weeks and produces a yield of around 500 - 600 g/m2.