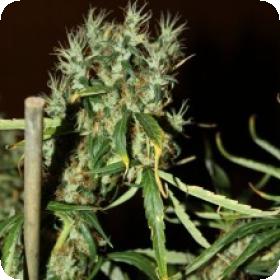 CBD Mango Haze Feminised Seeds
CBD Mango Haze by CBD Crew is very pleasing to the palate with notes of pineapple, mango and spice with a peppery aroma that compliments the flavour quite nicely. This is a fairly new strain having been first introduced in 2013 in seed form.
This strain follows CBD Crew's breeding practices by creating a strain with a higher CBD to THC ratio than most strains.
The breeder has developed plants with THC to CBD ratios ranging from 1:1 ratio to as high as 1:2. Those numbers make the medical applications for strains like Mango Haze virtually endless.
The potential aid to many health issues is incredible and should be tried by anyone who has been dissatisfied with the results of other strains in the past. This breeder's entire catalogue is a cut above the rest.
The Haze genetics help these plants respond well to topping, cropping and a number of other pruning techniques designed to control height and maintain a good yield.
Despite the smaller bud formations that are characteristic of most Haze-based strains, Mango Haze is capable of yielding very well with averages ranging from 450-600 g per square metre, depending on the growth method and environment.
Reducing this plant's lower branches early on in the flower stage will promote the formation of larger colas. That will reduce the amount of pruning that will be necessary over the life of the plant.
Flowering time is typically between 9-12 weeks, depending upon which phenotype emerges (and there are a few).
As a general rule, Haze hybrids are naturally resistant to mould and fungus and are very appealing to the eye. With high resin production and an end product that has a pleasing flavour that appeals to a wide range of palates, Mango Haze is a great sativa-dominant, CBD rich strain.