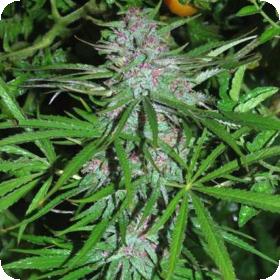 CannaBioGen Panama, originally developed by ACE Seeds, has been the focus of an ongoing hybridization project that CBG is knows its customers will really appreciate and enjoy.
Growers familiar with ACE Panama will appreciate the results of CBG's endeavours with this strain. CBG took a fourth generation classic Panama and pollenated it with a Neville's Haze, also fourth-generation.
The result is the same basic Panama, but with a shorter, more productive flowering time. The CBG version is very potent and produces a near-psychedelic effect with virtually no detectable indica influence.
The resulting plants are typically sativa in both look and smell. They grow tall with a strong central stem supporting many a full-body high that is very classically sativa. Best of all it retains the same retro feel of its ACE counterpart - very exotic and definitely old-school.
The plants grow very bushy and require ample space for stretching. Indoor growers should note that CBG Panama can also grow to over 6 feet making it necessary to provide them with ample overhead space.
The growers preferred method will work just fine but a 12/12 light cycle is highly recommended. Grown outdoors, Panama thrives in low humidity but is also tolerant to colder nights. Growers in the Northern Hemisphere should plan their harvest of CBG Panama by the end of October.
Sativas generally take longer than indicas to flower, some by a huge margin. These feminised seeds, however, have a shorter-than-average photoperiod thanks to the inclusion of the Haze genetics.
Give these plants just 12 weeks and the buds fully mature, ready to be harvested and cured. Another clear advantage is in their ease of handling. Feminised cannabis of any variety is recommended for novice growers.
All-female plants thrive with less care and typically out-produce their "regular" counterparts by a considerable margin.
Please remember that the growing of cannabis plants and the cultivation of seeds is illegal in some countries - please check the laws of your country and don't be growing any plants if it is against your country's laws.