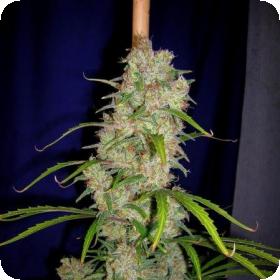 Destroyer Feminised Seeds
Destroyer is a Sativa which was created by combining Meao Thai and a Mexico/Columbia. These females were backcrossed over a number of years and the result is astounding. Meao Thai aren't the easiest genetics to play with and so they used an early female as well as a vigorous producer to up the Thai game.
This means that the strain is extremely stable and still has all the exotic flavours and smells of the Thai mother. This strain creates heavy yields of THC coated, potent buds. It is important that the flowering conditions be nice and dry.
This strain is feminised which means that it will only grow into female plants. Almost every strain that has been feminised has shown marked improvement in its quality and its uniformity. They are usually preferred by growers who have no need for the male plants. The males can even cause issues during the growing period which means they should be separated from the females.
This usually ends up being a massive waste of time, effort and money. Feminised seeds can also be used by breeders but the process is significantly more difficult. It should only really be attempted by experienced breeders.
This strain will flower in 8 - 12 weeks and can be grown indoors or outdoors.
Remember that the cultivation of cannabis seeds is illegal in some countries, please check the laws of your country before attempting to cultivate cannabis seeds.