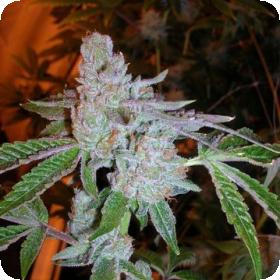 This strain is yet another wonderful plant from the talented breeders at Cali Connection. It is said to be one of the strongest hitting and strongest tasting strains currently available. This strain is now available, for the first time, in seed form. Tahoe OG was created by combining Valley OG Kush F3 with the Tahoe clone. The scent of the plant is a combination of powerful kerosene skunk and lemon. If this strain is carefully grown and properly looked after it can give out some pretty impressive yields.
This strain is feminised which means it will only grow into female plants. These seeds are extremely popular amongst those who have no plans to breed their own crops. For these growers the male plants, which usually make up half of a regular crop, are a complete nuisance.
They have to be removed before the flowering period which means that around half of the crop is wasted, as is half of the money spent on it. Feminised seeds are also of a generally higher level of quality and uniformity than regular seeds.
These plants are also photoperiod which means that they flower in response to a specific light cycle.
Tahoe OG has a flowering time of around 10 weeks.