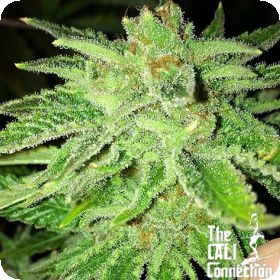 Strawberry OG Feminised Seeds
This is one of the newest strains available from Cali Connections. Strawberry OG has all the best parts of the ever popular Bruce Banner #3 combined with Tahoe OG. This strain was incredibly carefully planned and carried out by Cali's talented breeding team. One of the most celebrated aspects of this strain is its high terpene volume. The aroma is powerful and is not only fruity but also has a burst of pine. There is also a delicious fruity taste that is completely unique to Strawberry OG.
From the Bruce Banner#3 side of the family gives the strain a euphoric and fast acting effect which makes it great for day time usage and getting creative. The Tahoe OG gives it that lovely and relaxing bodily high which is perfect for those who are suffering from pain, sleep disorders and insomnia. This strain is a Sativa/Indica hybrid but leans a little more towards Sativa. Strawberry OG is a feminised strain.
Feminised strains are strains which will only grow into female plants. These seeds are extremely popular amongst growers as they remove the issues that come hand in hand with male plants. The males will usually need to be removed before the flowering period so that they do not damage the harvest. Since around half of a regular crop is male this is a huge waste of time, money and effort for most growers. Feminised seeds are also often found to be higher in uniformity and in quality than other strains.
This strain has a flowering period of around 65 - 71 days.
Genetics:
Bruce Banner #3 x Tahoe OG (Reversed Male)